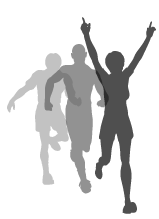 The Cheltenham Challenge 4-in-1 presents a great opportunity to raise money and awareness for many different charitable causes.
The 2014 event will be helping to raise awareness of mental health as 1-in-4 people suffer from a mental health condition.  However, you can still use the event to raise money for any charity of your choice.
Do you work for a charity?
• Use the Challenge as a fundraising event to generate sponsorship from your supporters
• We will handle the administration and the running of the event, you provide the entrants and keep all the donations that they raise on behalf of your charity.
• Provide your supporters with your own sponsorship forms or set up fundraising pages on JustGiving or Virgin Money Giving
• Link up with the event marketing and social media and shout about your cause – #CheltChallenge
• Set up a stall in the event village. Email CheltChallenge@ccprojects.org.uk to book a free place.
• And  don't worry, we won't attempt to contact your supporters for any reason other than to keep them up-to-date with arrangements for the event.
Do you support a charity?
• You can enter the Cheltenham Challenge to raise money for your favourite charity
• Choose from 5k, 10k, half marathon or full marathon distances
• Walk or run – your choice
• Ask your friends, family and work colleagues to sponsor you
• Contact your charity for a sponsor form, or set up an online page through JustGiving or Virgin Money Giving
• Follow us on Twitter and tell everyone which charity you are supporting
• All the money you raise goes to your charity
Looking for a charity to support?
The Cheltenham Challenge is organised by County Community Projects (CCP), registered charity No. 1043143. We provide a wide range of services for children, young people, families and vulnerable adults, aimed at preventing homelessness, strengthening families and communities, and promoting independence and rights.
If you are interested in fundraising for CCP, please CLICK HERE  for more information.
To find out more about CCP, please visit our website at www.ccprojects.org.uk